Hmm... I wonder where I got my smile?

When I arrived home late Friday night after partying with MySweetMommie, I found a tag on my door from the UPS man stating that he had a package and had to have a signature so he would be back on Monday. I *knew* there was a surprise coming from UPS but I didn't know what it was and now I had to wait 3 whole days to find out what it was. Thankfully I had a busy weekend! I had to work a different shift on Saturday so after work Saturday night I prepped all the goodies for Mother's Day Dinner at Nelle's and Sunday morning I managed to get up early enough to bake the
Key Lime Pie
from Pioneer Woman and put the Chicken Alfredo Pasta Bake in the oven. I have never ever used the delay timer on my oven before but it worked GREAT! The Pasta Bake was ready when I arrived home, I took it out of my oven and ran over popped it in Nelle's while we waited for the breadstix to bake. I will definitely be using it more often!
After lunch we played a crazy game of trivial pursuit. The sun shining on the game board inspired me to make a Trivial Pursuit style quilt, so I took a picture and filed it my "Someday I need to make one" file in my brain, and I am going to pin it on Pinterest so I can find the idea again.
Anyhow, I am rambling- Back to Mr. UPS man- Monday morning was spent on the phone with the cell phone company (for an HOUR and a HALF!) being shuffled from one rep to the next (grrrr snarl, COUGh! ) I had to explain the problem to each one, I now have my phone's serial number memorized. I was beginning to think they wanted me to talk to every employee in the building. I was coughing and blowing my nose and feeling horrible and trying so hard to be patient. I think the problem is being fixed but it was not a fun process! ( the poor reps probably didn't think it was fun either) Sorry, I'm rambling again- I got off the phone and was playing around with my red white and blues for the blog hop and I heard the beautiful big brown truck at the end of my driveway.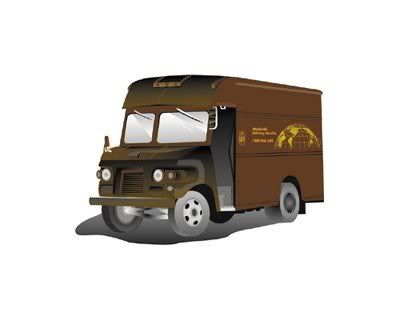 My friend told me I should have
Mr. UPS bring me
a daughter next time,
but I think *that* might make people talk!
He doesn't pull in to my driveway because it is long (like this post) and I can see that he has a good sized box and it is pinkish- When he finally gets up to the house, he apologizes for not being able to leave it on Friday - (I love living in a small town.) I told him I was going to teach the cat to sign for my packages. Can't you just imagine it...
What did Mr. UPS bring me? He brought me a new brother!- Wait a minute--- those come from the stork don't they?
© Dixie Allan
not *that* kind of brother!
This
is the brother that Mr.UPS brought me:
I named him after the cartoon characters
Sherman and Mr. Peabody
I'm not sure why... but I like it!
My Simplicity machine is Simple Simon.
It was a good thing I had already told Sistermine that I wasn't coming over- I couldn't leave my new brother home all by himself on his first day! I stayed home and played with my new toy! I worked on an improv log cabin and made a Red White and Blue block.
you will have to wait for the blog
hop to see the whole block
I have a teal/blue quilt floating in my head but have yet to find the perfect fabric- I have a couple in mind but I'm not seeing what I want. Thank you CaMom for the wonderous surprise! Sherman, and I will have alot of fun together!
 
Can you tell I found a photo editor to replace picnik?
Check out

PicMonkey

It's way too fun!
This effect is Daugerreotype- I love it!
 Tune in tomorrow for more adventures with Sherman, a teacup and CaMom's tablerunner!